Healthy Chili
[Quick Disclaimer: Yes! I fell off the wagon and did NOT finish the 12 Treats of Christmas. I know this! I'm a horrible human being! But I've moved on from that.]
I'm losing WEIGHT! We went on the 6-day Body Makeover for six days (duh!)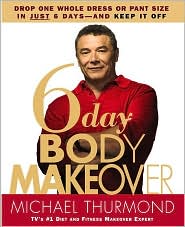 and I lost 11 pounds in 6 days! WOOT! WOOT! We're off it now (it was just a turbo charged start to our healthy living resolution) and we're just trying to eat healthier. [On an aside: one thing that I REALLY learned during the 6 day thingy was I eat WAY too much sodium! In just two days, my face didn't even look like me anymore. ALL puffiness was gone! WEIRD! I still LOVE my salt shaker, but I am currently imposing a separation until we can reconcile our differences... mainly the extra 50+ pounds the salt helps me cling to]
So my sodium epiphany has led me to learn that fresh herbs go a LONG way to making you forget your salt shaker. So I made over my chili recipe and OH BOY did it turn out great! Hannah Carpenter... this blog is for you! At your request, here's the recipe:
Put a swish of EVOO in the pan and saute one chopped onion and 2 - 4 cloves of garlic. When they start to get translucent add 2 lbs ground turkey and fresh herb mix [in a Magic Bullet (or other food processor) combine: a big fistful of cilantro, a small chunk of jalapeno, 3x as much onion as jalapeno, and the juice of one lime... pulverize it]. Brown the ground turkey and drain off the fat.
Add two BIG cans of diced tomatoes with juices and one can full of water. [I suppose if I were truly virtuous I would have paid double for the "no sodium" tomatoes but you can take the girl out of the cheapskate but you can't take the cheapskate outta the girl... or something like that... I just got the regular ones cuz they were CHEAPER.] Add a BIG palmful of cumin, another palmful or chili powder (again coulda, woulda, shoulda paid for the salt-free but TOO cheap!), sprinkle in some black pepper and simmer away.
Add two cans of kidney beans [I was virtuous here!!!!! I didn't pay for salt free beans but I tossed them in my colander and RINSED away all the salt!]. We served this over whole wheat rotini and garnished with 2% cheddar and low fat sour cream.
Guess what???? It was FABULOUS! And we hardly missed all the salt, fat and processed flour I left out!